Trinity Opportunity Alliance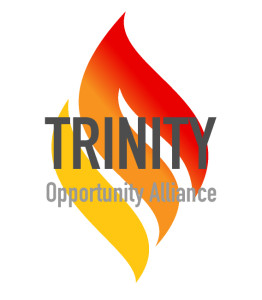 Trinity Opportunity Alliance's (TOA) mission is to recruit, train, and support businesses that will offer young adults opportunities to transition from foster care to thriving adulthood through meaningful employment.
TOA identifies potential employers, works with youth-serving organizations (Arizona Friends of Foster Children's Foundation) to match eligible youth with jobs, and support employers with training and problem solving.
In 2013, the United Methodist Church challenged all its congregations to consider the issues facing children in the foster care system in their state. Further, after learning about the issues, incorporate these children in the congregation's mission planning. North Scottsdale United Methodist Church (NSUMC) took this challenge to heart and, after several educational meetings, determined the priority for this congregation were children aging out of the foster care system. At age 18, youth who are in foster care are no longer the responsibility of the state and are considered "aged out." With no support system, little if any work experience, and minimal education, many of these young people are unemployed and become homeless. Reverend Nancy Cushman also recognized that there were many employers, managers, and business leaders sitting in the pews. What an opportunity to leverage the resources of the congregation to address the employment challenges facing these young people.
A core group of volunteers explored the feasibility of a project that would recruit employers to hire these youth. They consulted with youth-serving organizations, policy leaders in child welfare and national experts. There was general consensus that finding employers to hire these youth was a daunting task. With no support system, little if any work experience, and minimal education, many of these young people are challenging for employers. There were no models in Arizona or around the country that had created a long-term program of employment for foster youth. There was agreement that if we could create a cadre of employers who would hire, train and support foster youth, not just one but many over time, we would have made an enormous impact on the system.
The vision is youth are offered a pathway for sustainable income by building a diverse pool of employers that will provide entry or higher level employment for youth transitioning out of the foster care system. As noted above, there is a significant gap in this area. There are a number of programs that offer summer employment or provide a stipend for businesses to employ a youth. However, when the summer or stipend ends so does the job. The Jim Casey Foundation directed TOA to a program in Maine that had developed a curriculum for employers that TOA is using as a model. That program ended when grant funding ended.
Trinity Opportunity Alliance website: www.toaaz.org