Isaac School District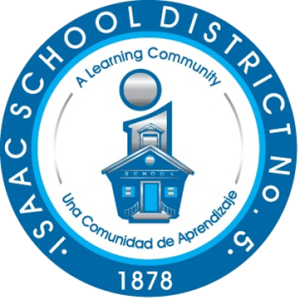 Mission: To provide a safe, supportive, and positive learning environment that promotes critical thinking, creativity and innovation. Combined with an emphasis on democratic responsibility, social, emotional and physical health, we will assist every child in reaching his/her highest potential.  Vision:  To prepare students to engage in dynamic and complex world with endless opportunities for personal and professional growth.
The purpose of why they are requesting Fiscal Sponsorship is to establish a Family Learning Center (FLC).  This will allow them to be responsive to the needs of the students and families in this area.
Core Values:
1. Exceptional learning for every child, every day.
2. Quality instruction across the curriculum.
3. Accountable to each other and the community through exceptional customer service.
4. Continuous improvement through collaborative and accountable professional growth and innovation.
5. Outstanding family and community partnerships that promote learner-centered engagement.
6. Effective use of resources through fiscal responsibility.
Isaac School District is already taking the steps to not only assist every child in reaching his/her highest potential, but involving parents in their mission of student success. The concept of creating a Family Learning Center (FLC) in the Isaac School District would further the mission and develop and support parents to nurture their child's academic and life success. This Center will be established in existing school space. Programs and Services offered in the Family Learning Center will be developed and implemented to address the variety of barriers that keep parents from becoming involved in their child's school and education. These programs and services will also engage other community members who are significant to the child's life such as extended family, neighbors, god parents, friends, etc. to participate and maximize the support that can be given to that child and their school. The FLC will consist of three core programs: Parent Support and Engagement, Youth Empowerment, and Life Long Learners. These programs will provide comprehensive support services to families, empowering them to become stronger leaders in their family, schools and community.
There is considerable evidence demonstrating that parent involvement leads to improved student achievement, better school attendance, and reduced dropout rates, and that these improvements occur regardless of the economic, racial, or cultural background of the family (Barri Tinkler, 2002). Although research has shown a link between parent involvement and student academic success, there is a lack of parent involvement in the Isaac School District due to a variety of barriers including: varying perceptions of parent involvement by teachers, administrators and parents; school environment may feel unwelcoming or intimidating to parents; disconnect with school culture/home culture and language barriers; parent education levels; parent psychological issues; and social service and logistical issues that enable parents to participate.
The Isaac School District Website: www.isaacschools.org
---