What is it?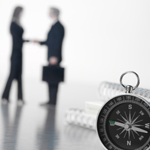 Sometimes good people are doing great work together but don't have a legal entity to stand behind them.  Just as often, when a group of existing nonprofit organizations work together, some of the partners may feel uncomfortable leading the way from a legal standpoint.  Additionally, a group of people may simply agree to work together, but there is no way for them to secure funding without a legal structure.
There is another way to extend nonprofit status on a project, without expending the effort of hiring a lawyer, dealing with mountains of paperwork, and experiencing the delays of waiting on the I.R.S. to respond.
Fiscal sponsorship is potentially a faster way to establish a legal framework for operating without having to start a 501(c)3 organization from scratch.  This allows a group to stay focused on their community passion and not be bogged down with administrative requirements involved in establishing a legal framework.  Perhaps just as important, fiscal sponsorship can allow one to avoid other possible "start-up" hurdles like qualifying for a grant (some grantors require that the recipient organization be legally established for a number of years in order to be eligible to apply) or establishing financial community credibility.