Cultivate South Phoenix (CUSP)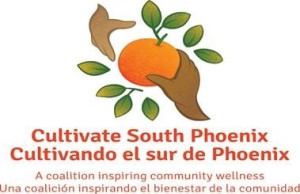 CUSP, established in March 2012, is a broad-based coalition of agencies collaborating to address health and wellness concerns in south Phoenix.
Their mission is to promote the wellness of families and children in south Phoenix by supporting and leveraging the efforts of a broad range of organizations with a shared vision of improving the natural, built, and social environments. We do this through community engagement in leadership, advocacy, programs, services, and activities within and across the dimensions of wellness. By way of background, south Phoenix is an area with a long history of agriculture, including cotton, alfalfa, and citrus growing, as well as the production of flowers, lettuce and other vegetables. People of color, including Mexican-, Japanese- and African-Americans, accomplished much of this agricultural development. The preponderance of racial/ethnic minorities was in large measure due to covenants restricting people of color from owning land in other sections of town. South Phoenix, now largely Latino, is a community disproportionately affected by poverty, low educational attainment, and crime. Childhood obesity rates are high. Very little land is used for farming, and an area once replete with fresh produce now is home to many census tracts designated as "low income/low food access". The acreage itself is in an LI/LA (Census Tract 040131166.02).
In response, CUSP has leased a 20-acre parcel of land in south Phoenix to establish a community-based farm, known as Spaces of Opportunity. Various agencies, including non-profit organizations, schools, and local farmers are in the process of growing fresh produce on this land for a variety of purposes: family and neighborhood consumption, distribution to schools, day care centers, and senior centers, and sales to local food banks, community health centers, local restaurants, and markets. A key project goal is to create a self-sustaining community farm. This will require developing centralized storage, processing, and transport capability; developing relationships with potential buyers; and branding and marketing efforts.
Cultivate South Phoenix website: www.cultivatephx.com