Creative Drill Sergeants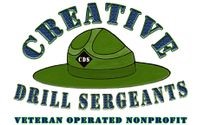 Mission Statement
WE HELP PREVENT HOMELESSNESS AND SUICIDES BY PROVIDING OUR VETERANS CAMARADERIE, MENTORSHIP, FAMILY HEALING AND VALUABLE EXPRESSIVE ARTS INDUSTRY SKILLS FOR ECONOMIC STABILITY AND SUCCESSFUL REINTEGRATION INTO CIVILIAN LIFE.
All Creative Drill Sergeants Programs serve our Veteran families and caregivers first, but Our Military Families (OMF) (Active Duty, Reserve, National Guard and their families) are welcome to join as members.  The public is are welcome to take part in our programs and their membership dues, along with fair and reasonable fees for instruction, are what help to keep our programs free to Veteran Families and Our Military Families.
Our nation is faced with increasing numbers of Iraq and Afghanistan OIF/OEF Veterans separating from military service with Traumatic Brain Injury (TBI), Post Traumatic Stress Disorder (PTSD) and often Military Sexual Trauma (MST). Homelessness risk and suicide rates among our Nation's heroes will continue to rise without more effective coping mechanisms for use as trauma healing interventions.
Trauma healing interventions begin with the four connected components of our mission statement that help prevent homelessness and suicides among Veterans and can lead to successful reintegration into civilian life.
    

Camaraderie – While serving in the military we develop a built-in, tried, and true social culture that is often lost and missed by Veterans when they exit military service. Building a new civilian social culture is paramount to a Veterans successful reintegration into civilian life. We offer workshops and instructional classes that bring together Veterans and their families for support through camaraderie.  

    

Mentorship – Leaders in the military guide service members through whatever they might have to face in battle and in life. We strive to provide leadership for our Veterans and their families by integrating mentorship throughout our programs in Workforce Development, Holistic Mind-Body healing, life skills, self-advocacy, resource location and access, and especially expression in the arts.

     

Family Healing – As a Veteran, our families experience the highs and lows of military service along with us, especially the traumas associated with war and sexual assault. We have a Holistic Healing Program that provides information on alternative ways of healing our Veteran Families Mind, Body, and Spirit to avoid leaving collateral damage behind that can derail a successful transition into a healthy and productive civilian life.

   Economic Stability – A major reason for many homelessness and suicides amongst Veterans can be attributed to their sense of economic stability.  Unless a Veterans job is fulfilling, rewarding, and enjoyable, that job may exacerbate issues with mental and physical health to a potential detrimental point of homelessness and suicide. We provide workforce development workshops and programs to teach Expressive Arts Industry skills that can lead to enjoyable employment through our organization and/or other employers.
Vision Statement
Creative Drill Sergeants (CDS) is a Veteran Owned and Operated 501(c)(3) nonprofit that provides our Veterans camaraderie, mentoring, family healing and valuable Expressive Arts industry skills for economic empowerment and stability through enjoyable employment.  In addition, we utilize Trauma Informed Care Practice to help prevent homelessness and suicides among Veterans, especially those with Traumatic Brain Injury (TBI), Post Traumatic Stress Disorder (PTSD), Military Sexual Trauma (MST) and other mental and physical issues. CDS Staff and volunteers utilize Trauma Informed Care Practices to help our Veterans with Traumatic Brain Injury (TBI), Post Traumatic Stress Disorder (PTSD), Military Sexual Trauma (MST) and other mental and physical issues avoid factors that lead to homelessness and suicides.  We strive for a self-transformative healing experience for our Veterans and their families; healing together as cohesive units through Expressive Arts, coping skills, life skills and Holistic mind-body philosophies and practices for successful reintegration into civilian life.  
Expressive Arts research shows it to be effective at augmenting traditional trauma interventions because it provides creative outlets that enhance attention and awareness abilities in productive, corrective ways to promote healing, thus mitigating trauma potentials during reintegration into civilian life. The CDS Expressive Arts Instruction Outreach (EAIO) Programs not only promote healing and teach self-advocacy but also translate into positive economic changes for our EAU Members. when learning Expressive Arts skills that lead to enjoyable employment and increase their capacities for career success within the Arts Fields. Our EAU Members learn valuable industry knowledge from our mentors to build networks, start new careers, gain practical work experience, and earn extra income by participating in our Mission Support Program (MSP) Veteran Artist Employment Project (VAE). Expressive Arts Instruction, employment skills, life skills, Naturopathic philosophies, and Trauma-Informed Care assist CDS and our EAU Instructors to support our EAU Members suffering from trauma and reintegration issues by eliminating barriers — such as stigmas associated with mental health issues and disabilities – through creative expression to achieve post-service success.    
"The wars in Afghanistan and Iraq are the longest combat operations since Vietnam. The length and nature of these conflicts create many stressors that face Veterans who have served, increasing the chances of having PTSD or other mental health problems. Initial research on OEF/OIF Veterans suggest that between 10% and 18% of OEF/OIF troops are likely to have PTSD (in varying severity) after they return. Though the recent overall Veteran unemployment rate is considered to be low, the unemployment rate for OIF/OEF Veterans with PTSD is believed to be considerably higher. Among 18–24 year olds, the unemployment rate is nearly four points higher among those who have served (16.2%) than those who have not (12.5%). Our most recent generation of Veterans — some as young as 21- and 22-years old — who grapple with severe PTSD are most likely to be unemployed, and their employment status can adversely affect their PTSD  
(https://medium.com/vainnovation/payforsuccess-incentivizing-sustainable-veteran-employment-3611e4bc0dda)."    
Arts help Veterans heal": The arts can address one of the reasons a service member or veteran might avoid seeking treatment, since when using the arts, individuals can experience or express their thoughts and feelings without necessarily having to talk about or directly confront the trauma, if they are not ready. One of the most difficult experiences is the transition from military to civilian life. Approximately 14 percent of service members returning from Iraq or Afghanistan meet criteria for depression. Left untreated, depression can increase the chance of risky behaviors, damage relationships, create problems on the job, make it difficult to overcome serious illnesses or even lead to suicide (http://www.naco.org/articles/guest-column-arts-helpVeterans-heal).   
http://creativedrillsergeants.org

The founders of Creative Drill Sergeants, Mitch Caviness and Gina Ruggiero are both are 100% disabled Veterans with PTSD, as well as multitudes of service-connected physical injuries and limitations. "We use Expressive Arts to rise above circumstantial adversities to find joy in producing something beautiful as artists. Expression through the arts reignites a passion to embrace the moment, the here and now, as it is all we truly get in life. We live each moment to the fullest through arts expression and want to pass along the blessing of expression through the arts to our veteran families."