Arizona Partnership for Healthy Communities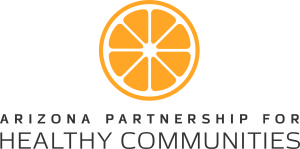 The Arizona Partnership for Healthy Communities is a statewide collaboration of over 25 Arizona-based nonprofits, foundations, businesses, and government agencies. Their vision is an Arizona where all communities are a healthy place to live. Health doesn't just take place in the doctor's office. The design of many low-income communities makes it challenging for residents to be healthy and active. Healthy communities provide quality housing at affordable rates, transportation choices, opportunities for physical activity, and access to healthy foods.
Their goal is to be the catalyst for 25 multi-sector projects in low-income communities by 2020. We know that the best approach to healthy communities is an integrated one that weaves together the public health, housing, transportation, community development, and economic development sectors. The Partnership is the independent third party that brings the key players to the table and inspires collaboration among them.
Arizona Partnership for Healthy Communities website: www.arizonahealthycommunities.org