American Nonprofit Academy Foundation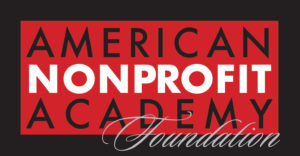 The American Nonprofit Academy brings leadership, education and connectivity with collaboration to the nonprofit community. Using workshops and panel discussion groups the American Nonprofit Academy champions sustainable approaches to philanthropy.  Workshops are held with live presentations and online.  Most of the low cost trainings are only $39 per class.  This affordable price allows organizations to attend several different workshops throughout the year or access online training at any time.
Topics range from media relations, accounting best practices, event management, board development, and social media strategies to donor cultivation.  American Nonprofit Academy workshops are designed to tackle real issues with practical approaches that consider the often strained resources of a nonprofit.
Our future is dependent upon the viability and strength of the nonprofit community. The American Nonprofit Academy is a central resource in developing a vibrant philanthropic base of support.  Teaching organizations to perform at their highest level allows nonprofits to achieve their service missions.
Website: www.americannonprofitacademy.com